Priska & Bas are the Greatest Relationship Experts of whole Europe!
"For the first time in my life, I am experiencing happiness on a daily basis."
"My struggle in romantic relationships has dissolved.
I'm finally with the man I love deeply & we're planning our first workshop together!"
"Priska and Bas know exactly what they are doing. 
With their loving presence alone, so much healing is happening."

and buzz with excitement to attract the Love
that you have always been dreaming of
(WITHOUT manipulating or playing games)
 then "THE REAL DEAL" is for you!

DURING THIS 12-WEEK EXPERIENCE, YOU'RE GOING TO UNCOVER THE BLOCKS AND BELIEFS, THAT KEEP YOU IN THE SINGLE-TRAP
(taught from the MALE AND FEMALE perspective – which will make ALL the difference!)
Just like these wonderful women did before you. After being single for ages, they found the big love of their lives (engagement rings included):
"My biggest dream just came true."
"I have no clue what Priska and Bas precisely did, but within the same week after our first talk, I met my beloved, who I know to be my soulmate.
It is him!
That's what happens when you get in touch with the magic of these two!
"He proposed to me last week & I truly couldn't be happier!"
"Less than a few weeks after working with Bas and Priska, I have met the most wonderful man.
It feels like pure magic to be with him and I have no doubt that he must be my soulmate.
I am forever grateful for Bas and Priska's support. I'm living now the amazing partnership I have always longed for. 
After working with Bas and Priska, I found my man!"
THE man who makes me happy, who loves and adores and cherishes and supports me the way I am. And the best thing is: I love him back.
I can receive all the love he gives me and it feels safe and adventurous in our committed love relationship at the same time.
PRISKA BAUMANN & BAS WAIJERS
INVITE YOU TO STEP INTO YOUR MOST MAGNETIC AND LOVE-ATTRACTING SELF WITH:
The Real Deal – From Solo To SoulMate
A 12-WEEK TRANSFORMATIONAL ADVENTURE,
STARTING NOVEMBER 11TH, 2019
(You will be in perfect love shape just before Valentine's Day 2020)
Already getting some butterflies in your stomach?
Book your call and let's find out if this is your next step!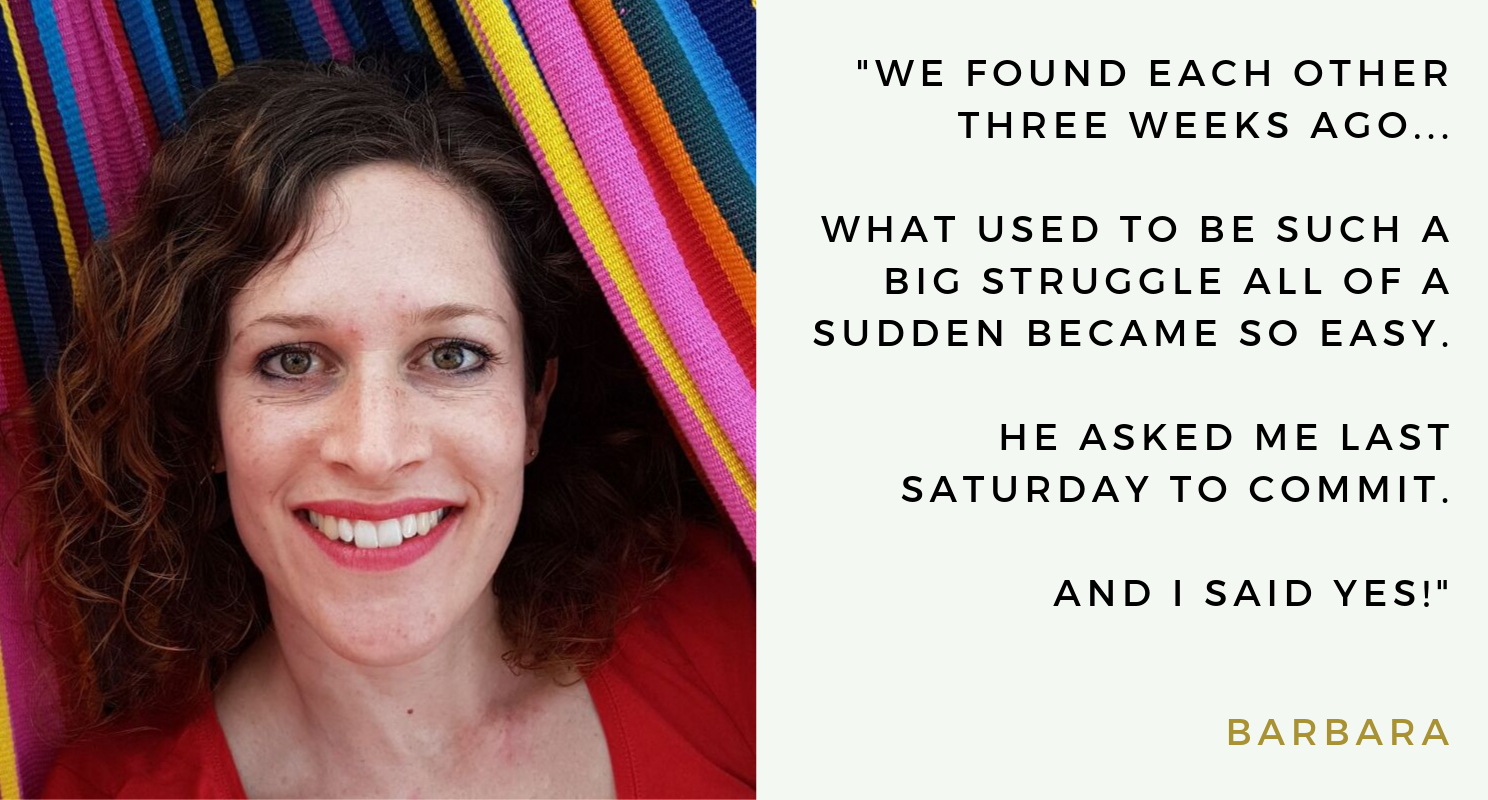 This is for female entrepreneurs who 

want it all!
(a booming business, alignment with your soul's purpose and a happy relationship with the sexy, caring, and intelligent guy… or gal… of your dreams)
 If you have been reading up till here, then we can be SURE that you DO want this soul-stirring, fulfilling relationship.
Does your heart skip a couple of beats when you imagine being looked at, like you are the most precious and beautiful thing in the whole wide world?
(Have you recently watched Outlander… you know Claire and Jamie?)
Do you want someone to share your wins and struggles with, after a long day of work?
 Are you longing for somebody that doesn't run for the hills when life throws some curveballs your way and things get tougher?
Do you dream about traveling with your beloved and making memories for life or building an empire together?
No matter how strong and independent you are (we are sure you are a friggin' superwoman!) – do you also crave a strong shoulder to lean on from time to time?
Someone to share your hopes and dreams with who also will hold you when you're having a good, old cry?
Now listen carefully: you can truly have it all! 
And we also know that by the time you read this, one or more voices within you will get loud and tell you something along these lines:
· "Don't believe that bullshit – you cannot have it all. Business or love. You need to make a decision!"
· "Shut the F up. You know how this works. You're going to repeat the same old song and end up heart-broken, binge-watching "Love Actually" and crying your heart out."
· "You are being happy as a single. A new partner will only mess up your beautifully organized life."
 

· "Gee, seriously? You are a woman of the 21st Century. Do you really still need a guy or gal to feel validated?"
· "No potential partner will ever accept your amount of success… Watch them running for the hills, my dear."
· "The object of your affection is still married, but finally will get a divorce. They're your twin flame after all. You have to wait until they are available for you!"
· "What about your freedom? You will lose it all!"
· "No time for that. Dating is way too complicated and time consuming. Back to the computer, love!"
· "Forget it! You are just not made for relationships. You failed them all in the past."
We might have forgotten one or two of these inner critics – but you get the picture.
All these voices keep you from getting what you actually want…… deep romantic love and true connection.
We can help you transform and stop listening to these frustrating, old ideas and beliefs.
Join our program and kick them out of your system.
BECAUSE:
You can have it all.
And your Beloved is out there, waiting for you!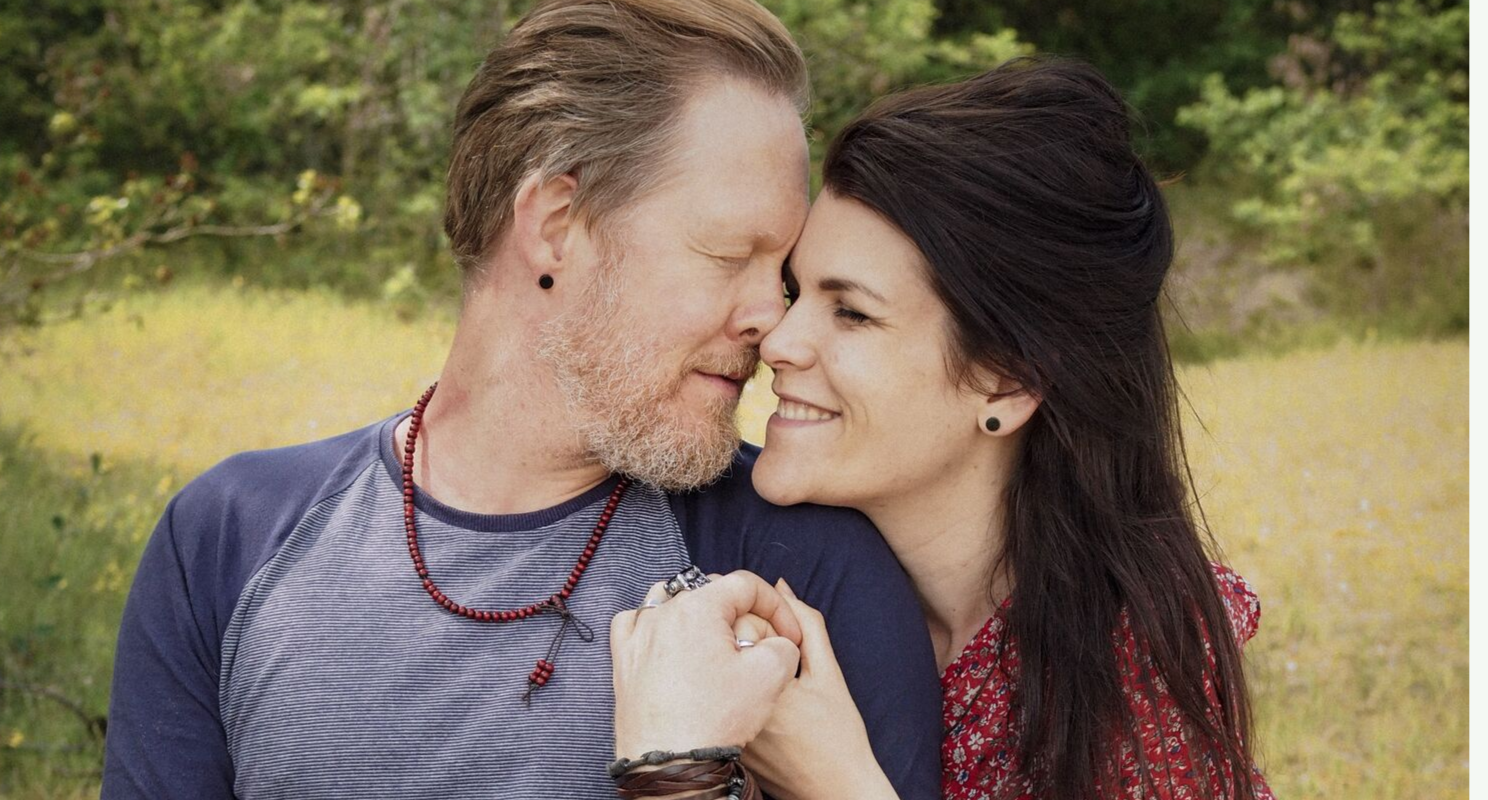 Intimate Group   (= Lot Of Access To Bas and Priska)
We work exclusively with 10 ladies only. During this 12 weeks you have the possibility to get a lot of direct contact with Priska and Bas and to look into your personal situation.
Every week (- except for the integration weeks, where there's only a QnA) we're going to meet twice (1 teaching, 1 QnA) via Zoom for a private meeting with the whole group to share info, do rituals and answer your questions.
Weekly Topics That Help You Clear The Path To Mr(s) Right
Every week (- except for the integration weeks) you're going to explore specific topics in a very practical and deep way with a powerful audio recording and a play-sheet.
You will discover new ways how to deal with and reframe your old and limiting beliefs and patterns.
It's time or an inner revolution, sister!


Best Community On The Internet
You will join the most beautiful Facebook community on the internet and create sisterhood for life.
This group will stay open after the program so you can keep sharing, connecting, and create magic for as long as you wish.
The Male and Female Perspective
You will have two excellent coaches at hand (according to Maria Appelqvist "the best relationship and intimacy experts of Europe 😉 ), who have been working for years with men and women – and both have totally different backgrounds of relationship history.
While Priska has been in only one (on-off) relationship and has been single most of the time, Bas has been in several different relationships, including a marriage.
Next to this, they will share their female and male perspective which will support you in many surprising ways.


Weekly QnA and HotSeats Opportunities
Every week (INCLUDING integration weeks but NOT during the holidays) we're going to answer your most burning questions.
If you need one, make sure to get yourself a hot seat and an intimate and honest mini-coaching from us.
Big Shifts In Your Love Life
Yes, our focus will be on your love life, but when you are going to optimize this part in your life, the whole system will chain-react to it.
Don't be surprised when the relationship with your friends and family, your financial situation, and your health and overall feelings will improve.
Miracles attract more miracles. It's a universal law.


A Safe Space In A Circle Of Likeminded Sisters
Next to us, you will have other women to rise and grow with. Never ever underestimate the power of true sisterhood. We have seen so many incredible miracles happening when women come together.
A dreamer alone is powerful. When many dream a dream together – they become invincible.
Integration Weeks
We are aware that our work together will be very intense. Therefore we decided to ad three integration weeks, so that you can digest all the processes, give your heart, mind and soul a break and just be with your beautiful self to integrate it all.
Of course you can still post in the Facebook group during these weeks and get your most burning questions answered at the QnA.


Our Core Design To Get You THE REAL DEAL
Every week (- except for the integration weeks) we will meet via Zoom to share some additional content, give you challenges, inspiration, information, teachings –  and do some ritual work.
These meetings will be our bonfires, where we come together to connect, share and create magic.
Work From The Safe Space Of Your Home + 24/7 Access

No matter if you're traveling or having a busy schedule. This program will save you a lot of time, as you can work and play from wherever you are. You don't have to leave the safe space of your home to go through that transformation.
Next to that you have unlimited access to all the downloadable materials and all recordings of the teachings and QnAs.

BAS AND PRISKA HAVE BEEN SUCCESSFULLY WORKING WITH WOMEN FROM ALL OVER THE WORLD FOR MANY YEARS.
"Priska and Bas were the only ones I trusted to have the needed depth and abilities to catch me!"
"I have already booked so many coaches and have done so many programs but I knew I had to work with Priska and Bas on this specific topic.
They were the only ones I trusted to have the needed depth and abilities to catch me.
And I was so right.
That's exactly what has happened."
"With Priska I had the breakthroughs within six weeks what a whole year's program was not able to do: to experience my truth with my soul."
I have no idea HOW she does that, but I respect Priska so much for her women-work and for the magic she unleashes.
What Priska teaches is priceless. Something that can never be lost. Freedom. Truth. Love.
To live in your own terms.
That's worth millions.
"Bas and Priska give me the feeling of being heard and seen."
"And this is what makes all the difference in the world."
"Priska & Bas stay true to themselves and have this raw and fun openness"
"They both can create a safe container like nobody else."

In These 12 Weeks We Will Cover:
Week 0 - Let The Magic Begin
Let's get to know each other and arrive in "The Good Place" (the REAL Good Place, for those who watched the series 😉) 
Week 1 - Get The Universe On Your Side
This week is all about setting clear intentions for this course. We dive into self-worth and are exploring what a relationship even means to YOU!
Week 2: Clarity About What You Want
This week is all about YOU. Where you're standing now, what you want, your imprints and beliefs. It's going to be VERY intense and interesting.
Week 3 – Integration Week
No new content will be released, but we're still meeting up for the weekly QnA.
This week is all about self-love and allowing all the new insights to sink in and integrate.
Week 4 – Manifesting Like A Master
This week is all about your relationship with manifesting and power. This is going to be an interesting one…
Week 5 – Remove Blocks and Past Hurt
Let's shed some light on past hurt and pain – including the one related to the (opposite) gender.
Integration Weeks 6&7 / Holiday
These weeks are for integration. No new content will be released, no call will take place. 
Happy Holiday, ladies (for those who are celebrating)!
Week 8 – Let's Talk About Intimacy
Get to know your attachment style and your relationship with intimacy – and how you can work with it.
Week 9 – High Or Unreal Standards
Get to know your needs and expectations and the difference between them. Explore how this can fundamentally change a relationship.
Week 10 – Integration Week
No new content will be released, but we're still meeting up for the weekly QnA.
Use this week to lay back and let the work do its magic.
Week 11 – How To Date With Grace
"Dating rules", why you can throw them overboard and what will REALLY help.
Week 12 – Let's Get Down And Dirty
Let's get this party started 💃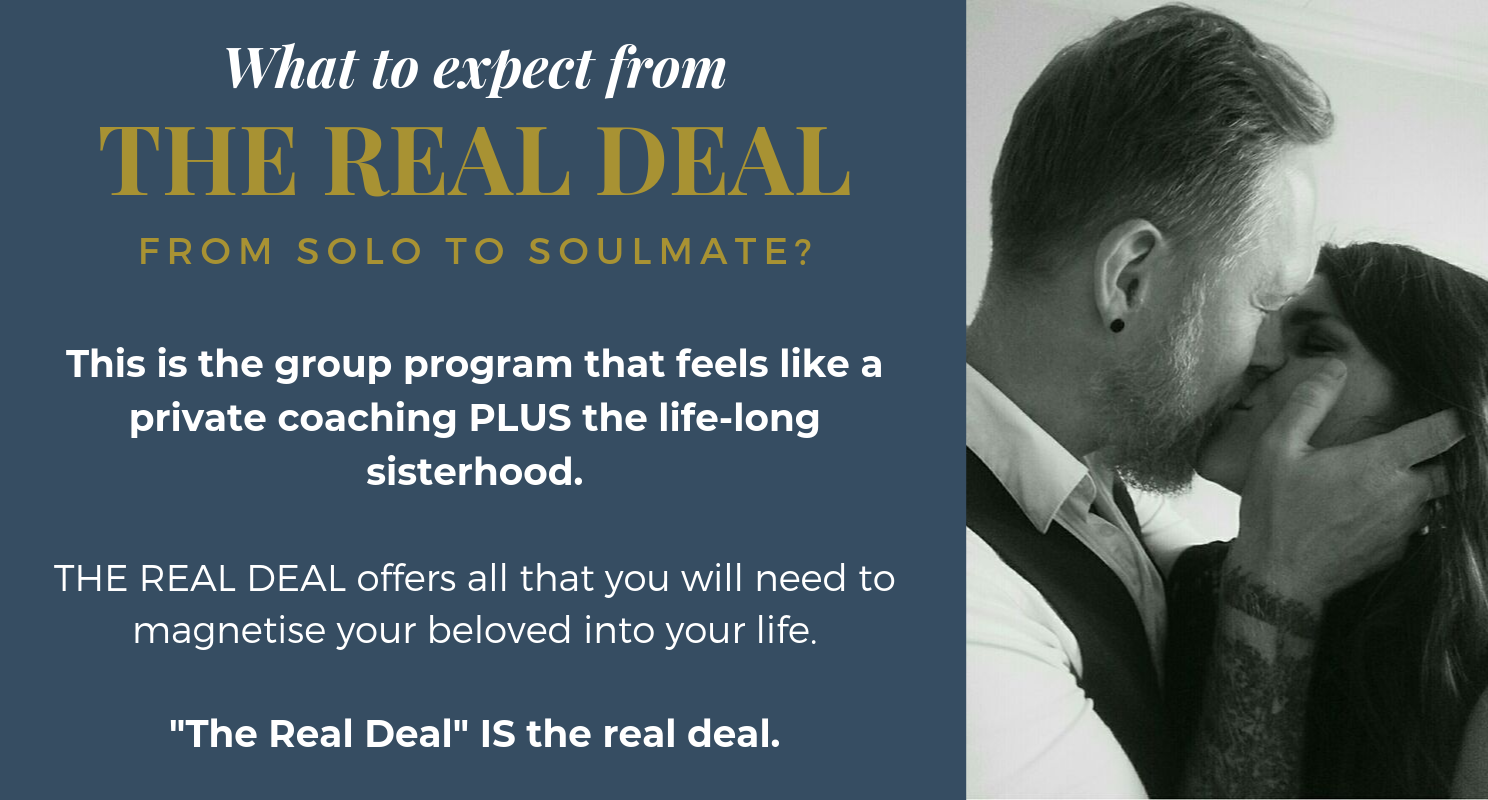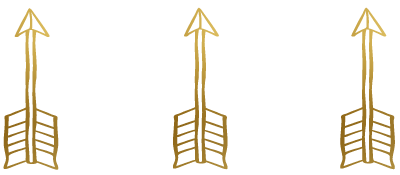 EPIC Fast Action Bonuses Till October 26th 2019:
(book your free discovery call before that date)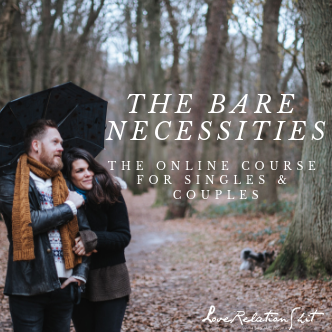 The Bare Necessities Course
In this course, you learn about the 12 essentials of a healthy relationship including 12 videos, theories, and exercises.
We want to make sure that you're getting the BEST possible start into your new relationship.
Are you done attracting "Mr or Miss Right" and losing them right afterwards?
Become your own relationship expert and build a foundation that stands the test of time.
Topics that we are covering: Sacred Sexuality, Jealousy, The Male and Female Wound, The Archetypes and many, many more.
A Journey Into A Man's Mind Series
Priska has collected questions from women all around the world and Bas is answering them honestly and respectfully in these 6 episodes
Get answers to questions like:
"Do men really want to do the pursuing of women?"
 "How do men decide if a woman is relationship material?
 "Are there men that don't watch porn?"
And many, many more…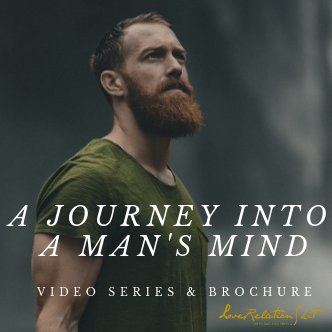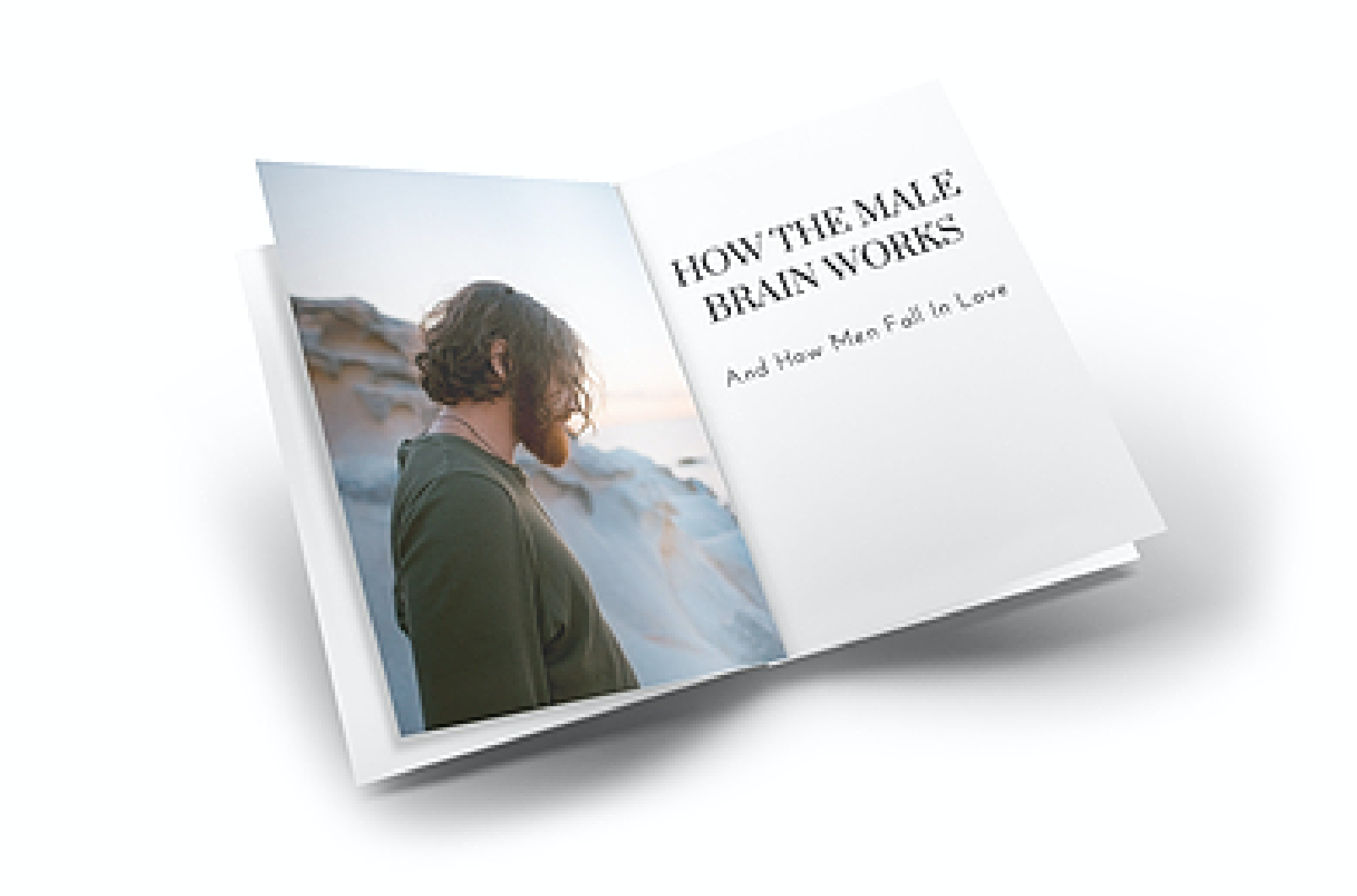 >>> ONE PRIVATE 1:2 COACHING-SESSION

<<<
>>>

WITH BAS AND PRISKA

<<<
(True story!)

You get everything that is mentioned in the group option PLUS:
Your Private Intensive With Bas and Priska
In this 90 minute session, we're going to dive deep into your current love situation and unmask the biggest blocks that are holding you back.
4 LoveHealing Sessions With Bas and Priska
With the help of coaching, energy-work, shamanic rituals (… let's see what you need and want), we're going to get rid of the blocks that keep you from getting the results you desire. 
Exclusive Email or Messenger Support
Are you having a melt-down and do you need some words of wisdom? Or are you about to date a person and don't know how to handle things? We're here for you via email or messenger.
Let us take you under our wing, sister.
We've got your back!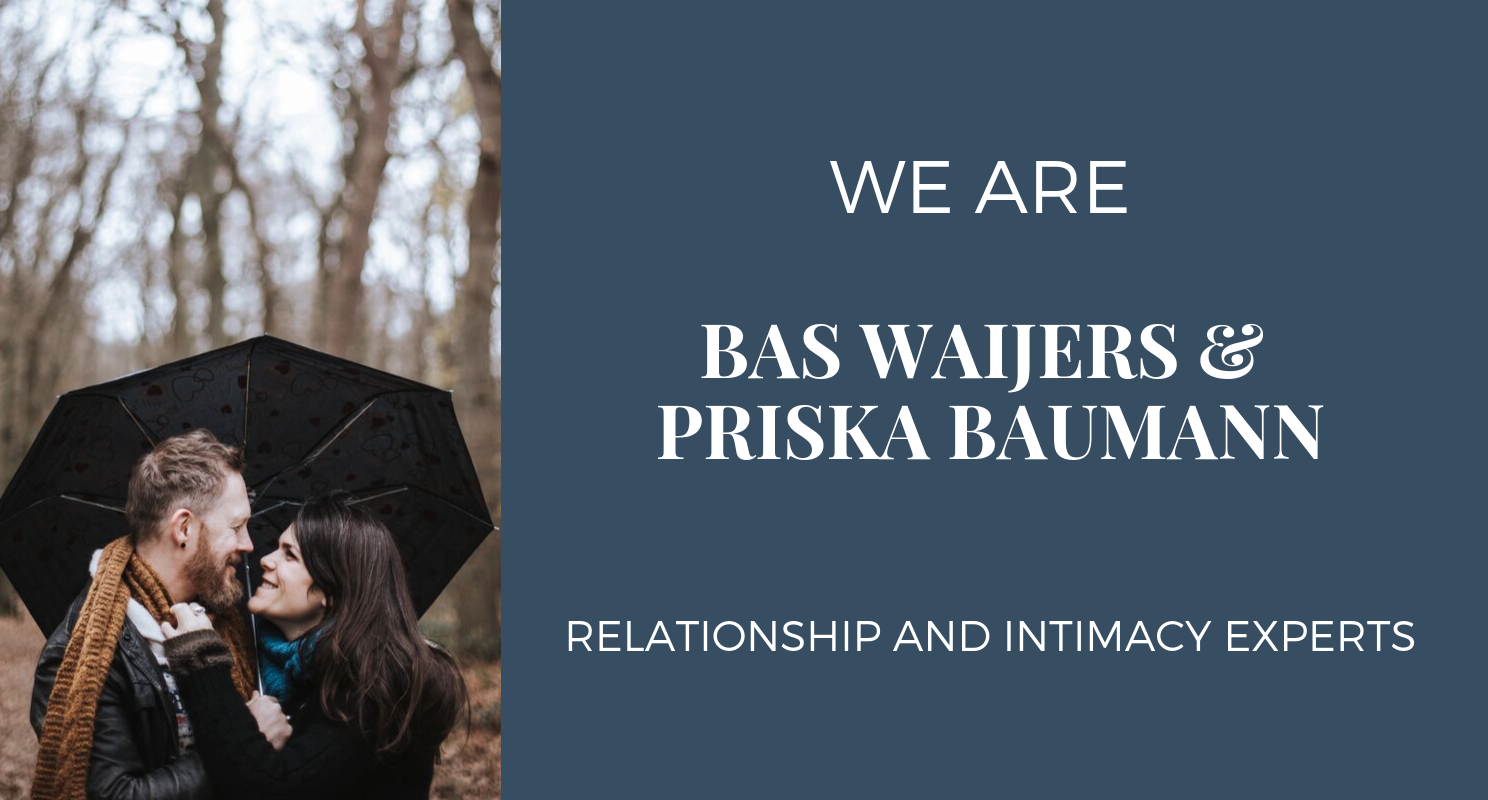 And That's Our Story
Bas' and Priska's love started under challenging circumstances. They met each other in a Facebook group of like-minded, free-thinking spiritual people. Both were magically drawn to each other's energies.
As Bas was a married man and a father of two kids, no one of them was having romantic thoughts when they started commenting on each other's posts and writing more private stuff in private messages.
During a global meditation, Bas could all of a sudden see, feel and even smell Priska. This experience shook him to the core, for he had never experienced such a thing.
Priska had the exact same experience and was freaked out about the amount of love she felt during Bas' energetic presence. The last thing she wanted was to fall in love with a married man.
After the second meditation a week later, where the same magical phenomenon took place, Bas dared to open up about what happened. At that point, Priska also felt encouraged to share her experiences with him.
While Priska was scared to the bones, Bas insisted on visiting her in Switzerland to find out what exactly was connecting them – and so they met a few months later at the airport in Basel, Switzerland.
Immediately it was clear, that this love was genuine and that they both wanted to be together.
Half a year after this first meeting, Bas was divorced, and Priska had migrated with her dog to the Netherlands, where she then lived for 1,5 years in a little studio before she moved in with Bas and his two kids in the summer of 2017.
An interesting detail: It was only later when Bas realized, that he was night-dreaming about Priska since he was an 8-year-old boy and that the dark-haired girl disappeared out of his dreams the day they met.
Priska too was connecting with Bas in her dreams while sleeping, but without ever seeing his face – although she remembered talking English to him, which only later made sense to her.
Their extraordinary love has been tested in many forms and many ways (we're talking serious sicknesses, financial struggle, emotional breakdowns) – but their belief in conscious love, truth, and freedom has helped them to conquer it all and to grow even stronger together.
They feel that Life brought them together not only for their own happiness but also for a bigger mission.
To raise the vibration on this planet by supporting people in attracting, keeping and sustaining romantic relationships. 
Life itself trained them to mastery in how to overcome deep pain, old beliefs and how to choose love, no matter what.
The "Love Alchemists Magic" has been transforming many lives already and they can't wait to touch yours!
The Love Alchemists Effect: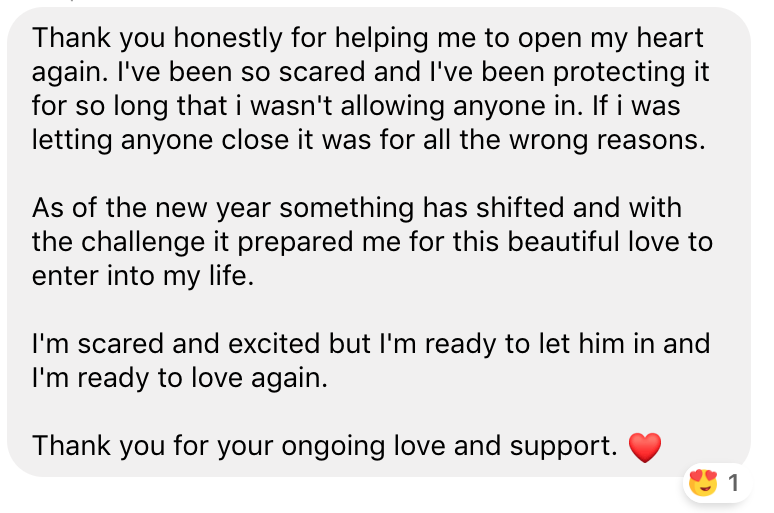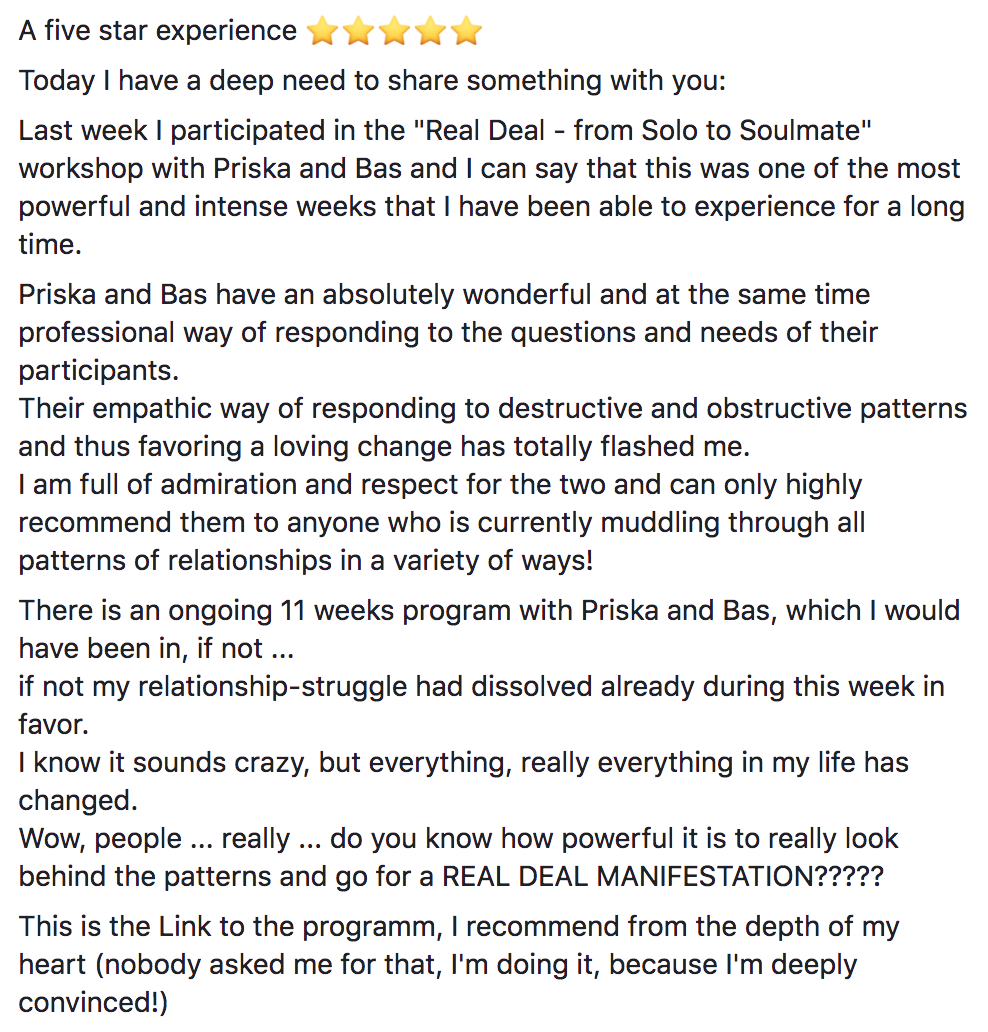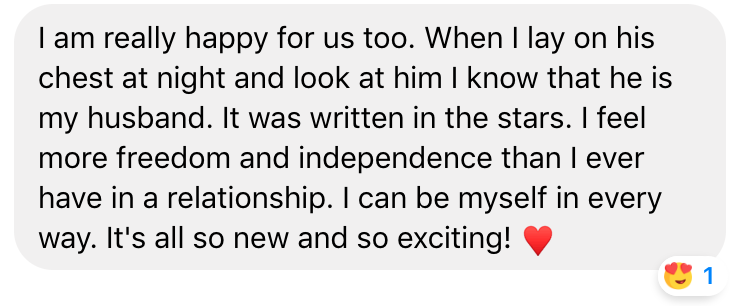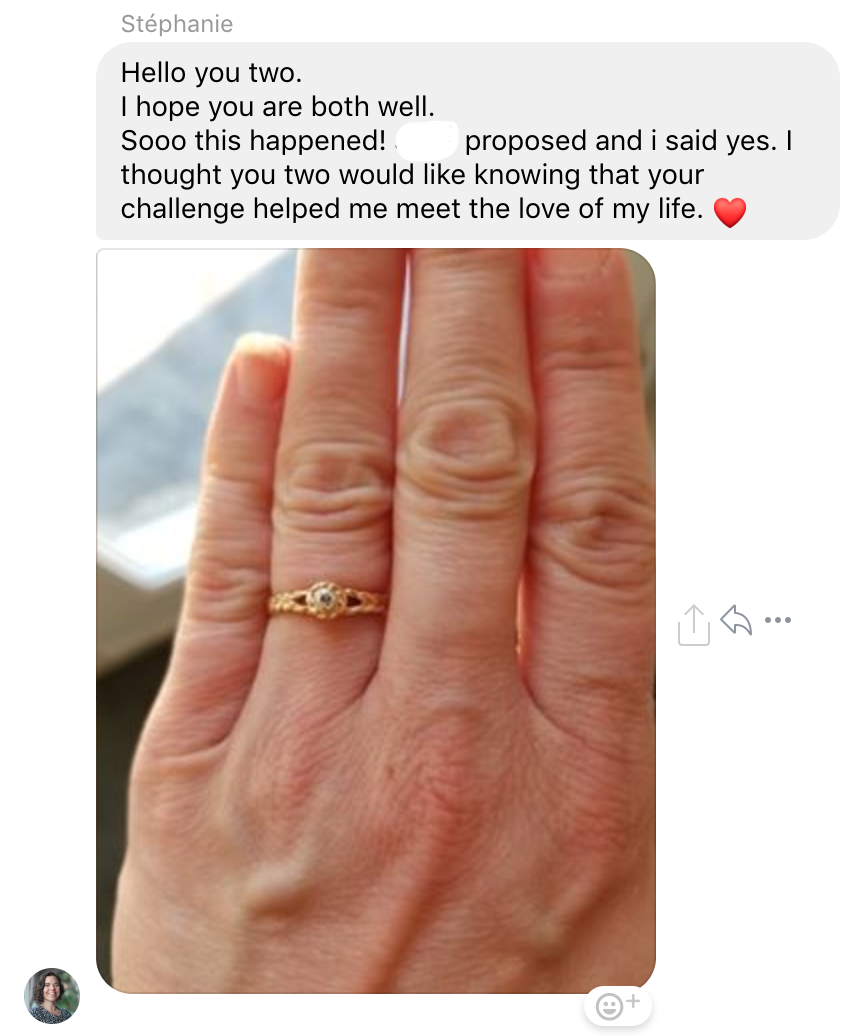 WANT TO JOIN US ON THIS 12-WEEK ADVENTURE OF LOVE?
THIS IS WHAT YOU NEED TO KNOW: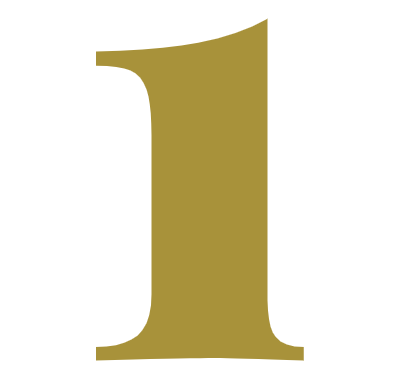 It doesn't matter how much you think you are stuck in the love-department.
All that counts is your strong desire to truly make this thing work (like really, really want it!)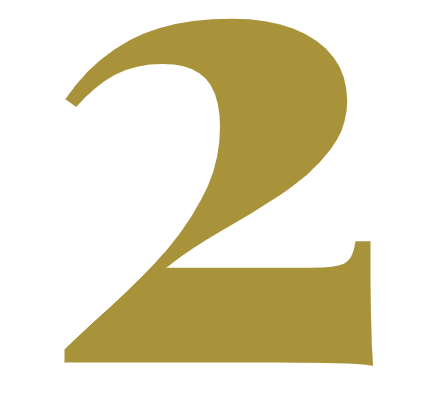 This group offers DEEP transformational and sacred work for women (Bas is the only man allowed). If you are up for REAL change that lasts, you better hit that red button below!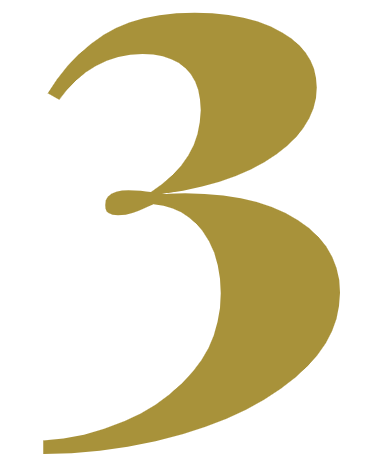 If you are done relying on the hope that "someday" the magic will happen and real love will enter the stage, then this is your chance to take your love life in your own hands.
We promise, this adventure will change your life. Forever.
So what are you waiting for?
Don't waste any more time and make the first step towards a life WITH your beloved.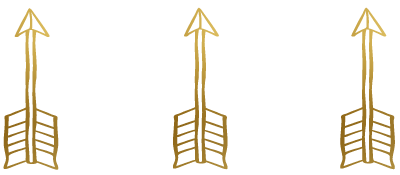 We can't wait to create miracles together with you!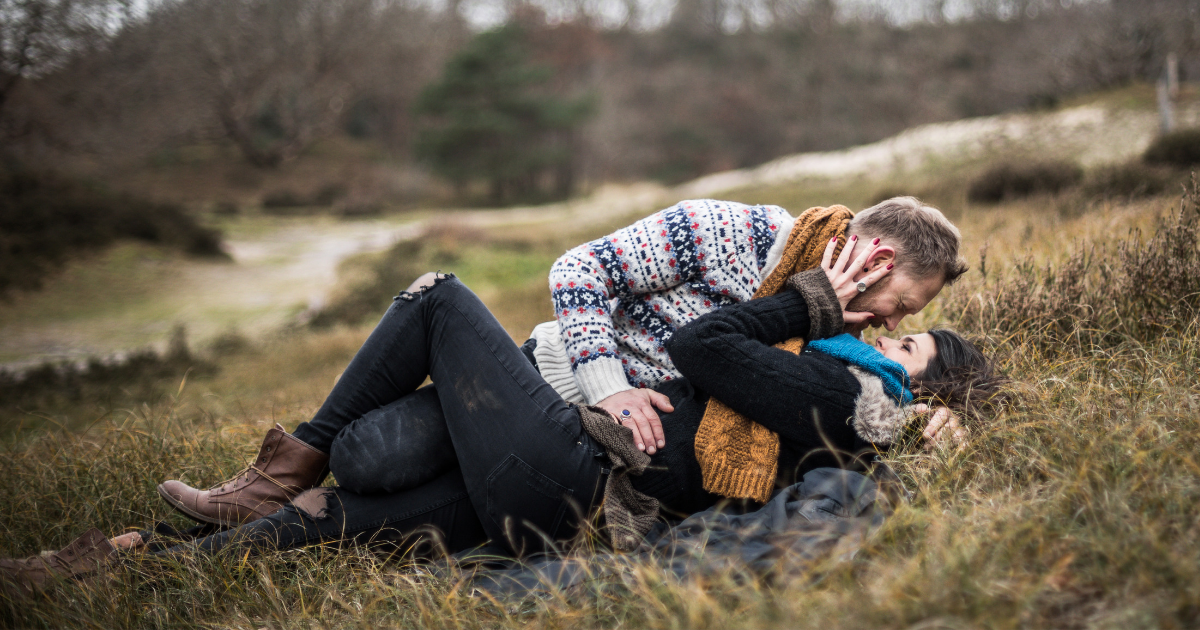 COPYRIGHT BY PRISKA BAUMANN & BAS WAIJERS
"THE LOVE ALCHEMISTS" 2019